Beach Vacations In USA
Beach Vacations is the ideal American vacation with world-class beaches and hot, sunny weather. This nation has infinite beaches, each with its distinctive appeal, extending from the Atlantic to the Pacific. Relax and unwind as you take in the limitless countryside, marvel at the crystal-clear water, and go for a swim in the waters' ideal temperature. To make your trip to the US the best one yet, we've put together a list of our favorite vacation spots. We also provide flights from Ireland to the US and from the US to Ireland with fantastic packages to suit everyone's needs.
Boston
Boston, Massachusetts is the perfect destination if you want to spend your vacation by the seaside, despite perhaps not being the first destination that comes to mind, boasts a variety of stunning beaches that run the length of the East Coast. You will understand why Boston is so popular with the Irish once you visit, whether you are relocating abroad or taking a J-1 summer job. On our website, you may go through our incredible bundle offers for flights.
Spectacle Island
Sometimes we crave both the city and the beach, the best of both worlds. That's what Boston has. Spectacle Island may be reached by ferry in only twenty minutes, and what a spectacle it is. On a clear day, you can get a stunning glimpse of Boston's metropolitan skyline while enjoying the waves caressing your feet in the sand. Hikers enjoy this island a lot as well.
Nantasket
On the fringes of the city, Nantasket is another outstanding beach. The weekend beach getaway is highly well-liked among the residents. The word "Nantasket" comes from the Wampanoag language of Native Americans and means "where tides meet," which is a fitting description for this wonderful beach. Along with swimming and tanning, beachgoers can also enjoy biking, hiking, the bathhouse, and the playground.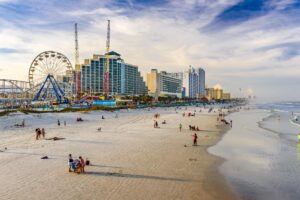 Orlando
You just won't find beach experiences like those in Orlando anywhere else. Think of coconuts, boardwalks, and vehicles with their tops down! Although you would not think of Orlando when planning a vacation by the water, Florida, and Orlando in particular, are close to some famous beaches. On top of that, it takes less than two hours to go from Central Orlando to the Gulf of Mexico. A tranquil beach day can be just what you need if seeing so many theme parks has worn you out.
Daytona Beach
Beach Vacations typical American spring break beach that you see in movies is Daytona Beach. In Central Florida, it is a welcoming beachfront community. You have a magnificent promenade with restaurants, activities, and arcades in addition to the lovely beach. A waterpark, go-karting, and laser tag are available at the lagoon. On the boardwalk during the summer, there are frequently free summer concerts as well. For any aficionados of motorsports, Daytona is also the location of the famed Daytona 500 NASCAR event at the Daytona International Speedway.
Cape Ann
Manchester-by-the-Sea is a charming Cape Ann town that is popular among movie buffs because of its scenic views and stunning beaches. The 2016 Oscar-nominated movie attracted tourists from all over the world to this modest community. Although it has beautiful beach resorts, it nonetheless has the charm of a little seaside town.
Cocoa Beach
Beach Vacations can discuss nearby beaches without bringing up Cocoa Beach. Cocoa Beach, which is 45 minutes by car from Downtown Orlando, is renowned for its surfing and laid-back atmosphere. It would be sinful to not hire a board and paddle along the waves since Kelly Slater, the most successful surfer in history, was born and raised on Cocoa Beach. Swimming, deep-sea fishing, strolling, and water sports are further options.